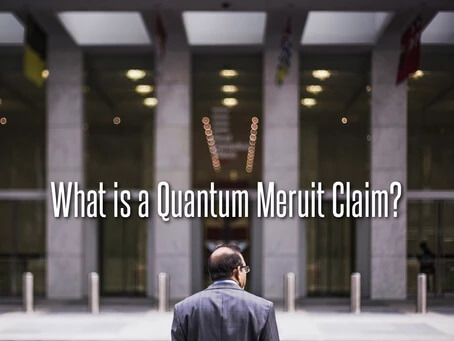 What is a Quantum Meruit Claim?
If you have completed work or obligations without an agreement or under a contract that is later deemed to be void, you may be able to recover money under the equitable doctrine of quantum meruit.
What is quantum meruit?
Quantum meruit is Latin for 'what one has earned'. The Court can award a reasonable sum for work performed, or goods provided.
A claim for quantum meruit may arise:
Where there is a request to render a service without specifying any remuneration; or
Where the contract is for a certain piece of work in return for a lump sum, but only part of the work is completed; or
Where work completed is outside the contract; or
Where work was completed pursuant to a contract, but that contract was terminated, unenforceable or void.
What do you need to prove?
To be successful in a quantum meruit claim, the following elements must be satisfied:
A request for services to be performed;
Part or all of services were performed;
The defendant received a benefit from the services; and
It would be unjust for the defendant to retain the benefit without paying some reasonable remuneration.
For example, in Pavey & Matthews Pty Ltd v Paul*, a building company renovated a cottage pursuant to an oral contract and the owner failed to pay for the renovation. As the contract was held unenforceable, the building company could not sue for breach of contract. However, because they had performed a service to which the owner benefited, under quantum meruit, they were entitled to a reasonable sum for that service.
What is a 'reasonable sum' for the work completed?
While there aren't any definitive rules to determine a 'reasonable sum', the Court aims to determine a fair and reasonable compensation for the benefit conferred*. The Court will consider both the actual cost of performance, as well as its commercial value as a benefit. Where the contract which stipulated a sum has been void, the agreed sum can also be taken into consideration. The recent High Court decision of Mann v Paterson* has suggested that the awarded amount should not exceed the agreed value under the void contract.

*(1987) 162 CLR 221.
*Brenner v First Artists' Management Pty Ltd (1993) 2 VR 221.
*Mann and Anor v Paterson Constructions Pty Ltd [2019] 32.